JERRY LOCH

My mother took me to the mall for my first piano lesson at age 5. I got a gold star the next time I went back and I thought that was pretty cool so I stuck with it. I am happy I did, because music has become the biggest and most rewarding part of my life.

I joined up with several bands over the years, mostly original music; a couple blues/funk cover bands. It wasn't until 1998 when I really discovered my sound and the type of instruments I wanted to play. I purchased a 1955 Hammond M-3 and a 1977 Leslie 147 speaker cabinet, and after it was delivered to my loft apartment in downtown atlanta, ga, I didn't sleep for 3 months. Vintage keyboards are where it's at for me.

backing up a few years, I arrived in atlanta in early 1996, moving here after graduating from penn state with a fellow band mate of mine. atlanta seemed to have a good music scene, and so we packed up half the band, and found the other new half in atlanta. fast forward to 2004 when I met joshua golden. I joined up with josh and 3 other cats from atlanta to promote josh's 1st cd, Sweet Demand. I have finally reached a place where the music writing is explosive, the musical energy in the band dynamite, and my desire and ability to be a great musician fully charged.

I hope you enjoy what we are creating as much as I do.

you can email me at jerry@goldentheband.com.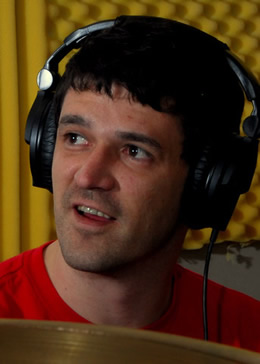 Hammond M-3 (miniature B-3)
Leslie 147 speaker cabinet (tall boy)
Fender Rhodes Mark II Stage Piano
Roland VR760 Combo Keyboard
Line 6 Delay Modeler
Crybaby From Hell wah pedal
Ernie Ball volume pedal